Welcome to Shambhala Costa Rica Retreat
Shambhala is nested on a magical hill overlooking the Pacific Ocean in the area of Nosara in Costa Rica. Reconnect with Nature and the ocean, practice yoga in the shala, breathwork, ecstatic dance and re-discover nutrition with a plant based diet.  Come to recharge your life force energy and rejuvenate your body, mind and soul!
Shambhala Yoga Retreats in Costa Rica
Experience the incredible wildlife of Costa Rica
Discover Elemental Rhythm Breathwork
Relax & Enjoy your time at the beach
Cultivating alignment of the body, mind and spirit with different practices :
The core of Shambhala is breathwork and yoga and (re)connecting to nature. 
Did you know that a simple nature walk brings your cortisol levels down ?
Are you aware of the powers of your vagus nerve? The one that controls your heart rate, altered consciousness experiences and activates relaxation ? 
At Shambhala, we explore through different ways leading to center : yoga, meditation, breathwork, nature walks, spiritual kung fu, ecstatic dance, holistic body treatments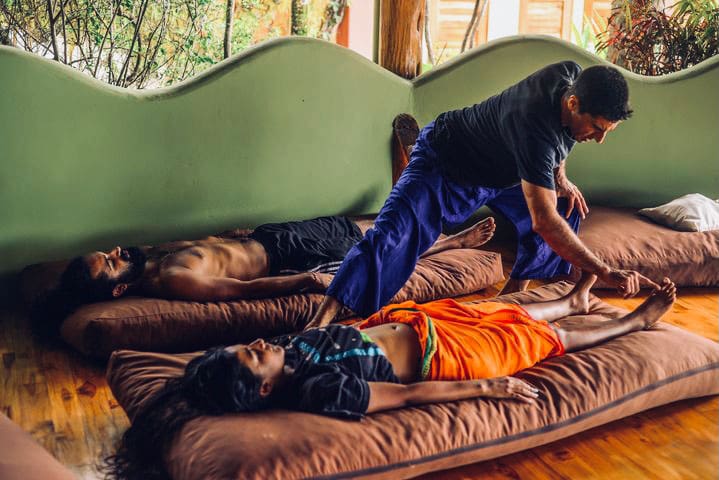 "Wonderful experience, only good vibes, familiar atmosphere!"
The Kundalini yoga sessions were a wonderful start of the day, and with breakfast, lunch and dinner included at the outdoor kitchen we felt like a family after a few days.  My casita was cute and comfortable, I had everything I needed for the week in one big lovely room. I met very interesting people in Nosara and and we could try Acupuncture, participate in a special breathing session, a deep tissue massage.
Daniel Schweitzer
Luxembourg
I am forever grateful
My stay at Shambhala was nothing short of magical. Being at the property felt like I was being embraced by mother nature – from the stunning ocean vista, to the plants and trees that are on the land, and the animals that call the surrounding area home. My soul craved a place where I could integrate downloads from Spirit, and Shambhala was that place.
Their shala provided a sacred container where I can connect with the Divine through the practice of intentional movement, yoga and meditation. And the mesmerizing view induced me into reflection, stillness, and meditative trance.
At night, I was lulled to sleep by the sound of the ocean waves, and my sleep was deep and restorative.
But the most important aspect of my stay was the hosts themselves, Isabelle and Elena. This mother-daughter team is a beacon of light, and any lost soul can find herself through their presence. Isabelle introduced me to Kundalini yoga, and the importance of breath, and Elena, with her knowledge and wisdom grounded in plant medicine, is a force to be reckoned with.
Ego is no match for the amount of light that is experienced at Shambhala. For this I am forever grateful.
Marina, Toronto Canada
I would recommend to anyone!
Isabelle's passion for teaching Kundalini is second to none. Her classes are high in energy and full of love. Not to mention the incredible view from the new yoga shala overlooking the Pacific Ocean. I would recommend to anyone!
Morgan Jupiter, Florida US
Amazing Guided Spiritual Experience!
I had the pleasure to connect with my inner essence, through the beautiful and harmonious guide of Isabelle when held herBreathWork Session.
Her joy, energy and deep knowledge, is something that takes you into an amazing consciousness of your being never reach before.
Keep brightening our paths, Isabelle! Namaste!
Iv, San Jose Costa Rica
Yoga with Isabelle is a unique experience!
Yoga with Isabelle is a unique experience that helps to ground into the present moment in a safe space for personal exploration. Being leaded by Isabelle that has dived into different spiritual practices creates a fresh experience that feels gentle, nourishing and deep all at the same time.
Dani, Nosara Costa Rica